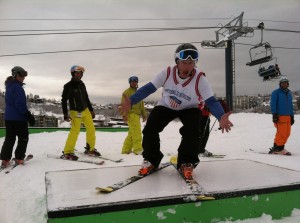 New Freestyle Experience Log – Tony Macri
I hope this article finds everyone enjoying their autumn and getting excited for another great season, which is just around the corner. The off-season is always a great time for reflection on the past season and an opportunity to evolve our resources and products for the RM membership. Well, your Freestyle Committee has been busy doing just that. There are multiple projects currently in development right now. However, the one I'd like to share with all of you is the creation of the new Freestyle Experience Log.
In the past few years, we have observed participants who come to the Freestyle Specialist Prep and Exam with limited experience. This lack of experience can create a dangerous environment at the prep clinic and even at the exam. We all know that when there is lack of experience performing a task, there could be fear that builds inside you as one prepares to perform it. This fear can increase when you are at a new resort with features that you may not be comfortable with. In addition, the amount of fear multiplies when you are asked to perform in an assessment environment crated by an exam. With fear building, the ability to commit to a movement that allows you to stay safe is more difficult, and as a result, injury can occur.
To proactively address this, the RM Freestyle Committee has developed a Freestyle Experience Log. This new log is designed to create basic awareness and added mileage with safe, simple movement patterns that will proactively manage fear to produce a more comfortable environment for our participants when they are coached through the exam. In the log, there will be a few sections that will cover a variety of different experiences. They are Terrain Park Experience, Culture questions, and even a section called "Have you ever," where it's a simple yes or no answer to each question.
We feel that this simple tool will help get everyone on the same page from a participant's perspective, as well as the examiner's perspective. Stay tuned for the official release of this log for more details.