Cross Country Certification Pathway
Membership & Certification Information
Join the Rocky Mountain Division and the PSIA-AASI National Organization by paying the annual dues
Members without certification are referred to as "Registered Members"
Membership must be current in order to attend any events through PSIA-AASI Rocky Mountain
Members can attend events under the age of 16 but will not be awarded any certification until they turn 16
Cross Country Level 1 Certification
If you have a background in XC coaching/teaching or hold  a Level 2 certification in another discipline there is a process for bypassing Level 1 certification.  Please see the additional notes at the bottom of page
Additional Cross Country Level 1 Pathway Info: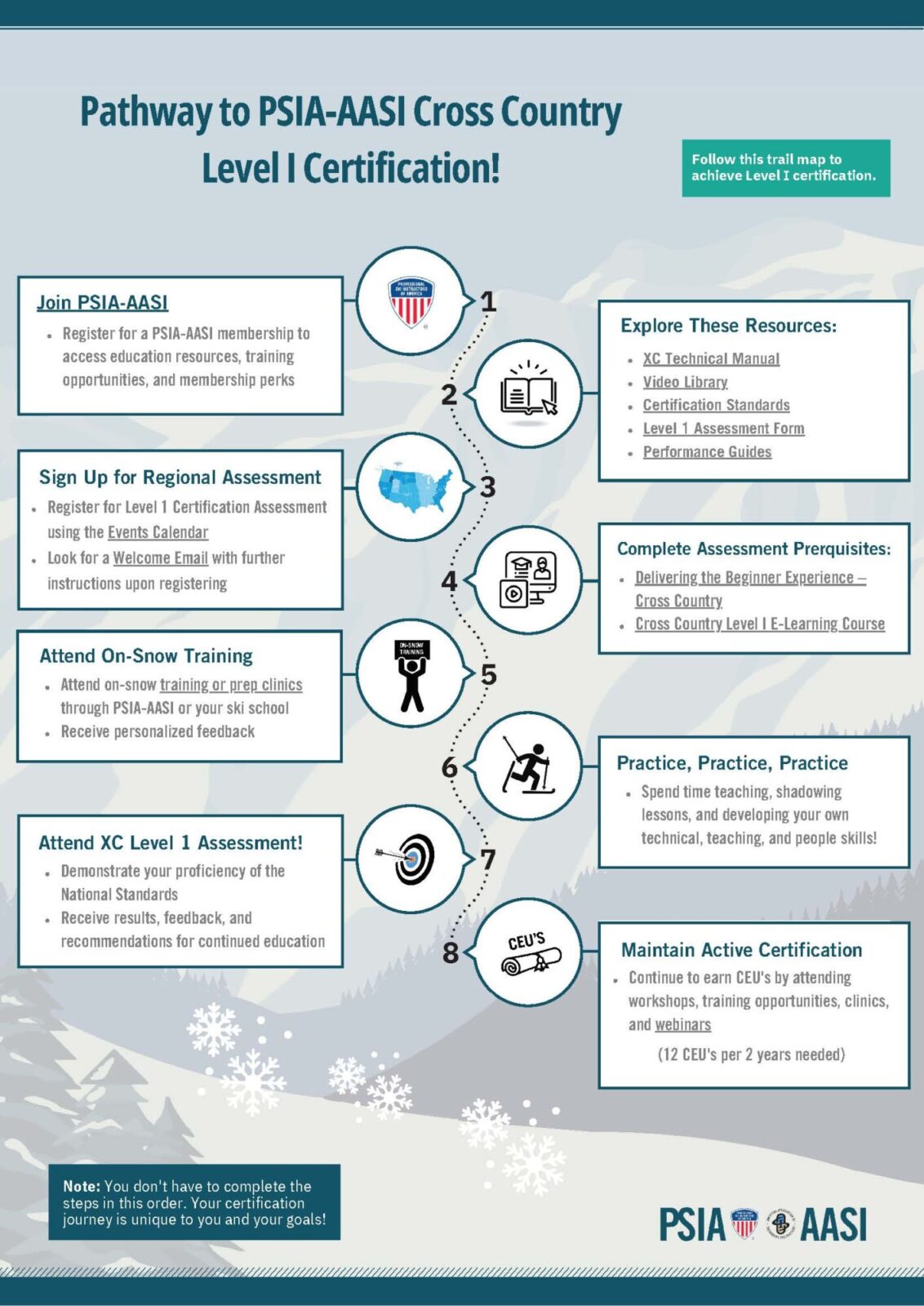 Cross Country Level 2 Certification
Cross Country Level 3 Certification
Cross Country RMT Certificate
Prerequisites:
Current in Dues & Credit Hours
Level 3 Cross Country Certified
Attend a Rocky Mountain Trainer Prep clinic or attend XC PSIA Ed Staff Fall Training (to attend PSIA Ed Staff Fall Training option you must contact XC chairperson prior and write a letter of intention of becoming a RMT)
Complete the E-Learning Module: Delivering the Beginner Experience – Cross Country
Complete RMT Selection Workbook and turn in first morning of the selection. It is highly recommended that you complete the XC level 1 E-Learning Course and Level 1, 2 and 3 Work books. This will help familiarize you with the New XC Certification National Standards of 2021.
Requirement:
Attend and pass all portions of the RMT selection
Additional Notes:
Skipping Level 1 Certification and going directly to Level 2 Certification Process

Achieving XC level 1 Certification is always highly recommended for anyone pursuing higher certification because the candidate will be more familiar with PSIA XC teaching methodologies and will have a greater chance at success in the higher certification process. However, to accommodate those rare instances where a XC Instructor has a wealth of experience and knowledge specific to teaching and performing in another sport/discipline and wants to go directly to higher certification, the following guidelines have been established:
A current membership in PSIA
PSIA Level 2 Certification in another snowsports discipline OR have a minimum of 100 hours XC Ski teaching or coaching experience (must submit coaching hours to PSIA-RM office)
Pass a telephone interview with XC Chairperson
Complete all XC Level 2 prerequisites before attending a Level 2 assessment.
*If you do not pass at the level 2 certification level, you will not be given a level 1 certification.