By Dale Drennan
During the summer I like to watch professional tennis tournaments like the French Open and the US Open. In junior high I played tennis competitively a little bit and then recreationally for a few years after that before moving on to other sports. My exposure to tennis has been enough for me to recognize that the announcers know the sport so much more deeply than I do. Their movement analysis always makes sense to me once I hear it. Often for up to a set, they accurately comment on and describe what they see a struggling player doing before they offer ideas for changing movements.  They also point out and explain the ideal movements that produce a particular point winner. The commentators, all former professional players themselves, seem to agree on what the ideal tennis shot would look like for a given situation.
This deep understanding of sport specific skills exists in cross country skiing as well; it is an integral part of instructor certification because accurate movement analysis facilitates target instruction. For this reason, our cross country education staff have been working on improving how we train instructors to analyze movement.  Our goal is for instructors to use the Cross Country Technical Model as a tool to facilitate describing skiing in terms of the four elements of the Sports Pyramid: Fundamental Body Position, Fundamental Movements, Timing and Power during the three phases of the Cycle of Cross Country Skiing, which are Pushoff, Weight Transfer, and Glide.
The Cycle of Cross Country Skiing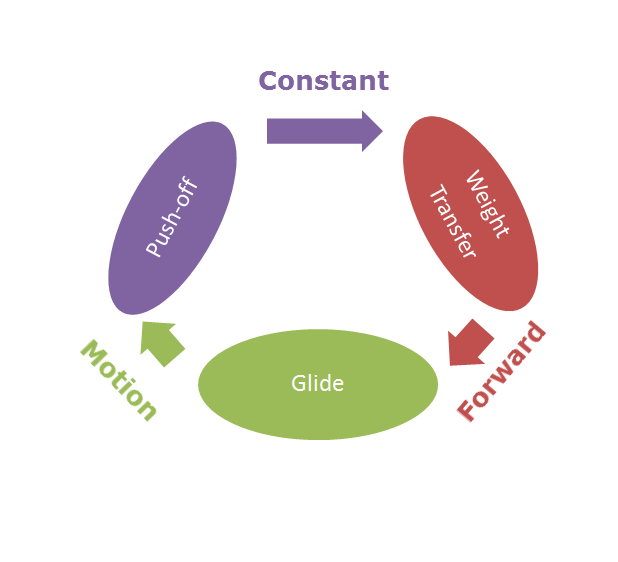 The Sports Pyramid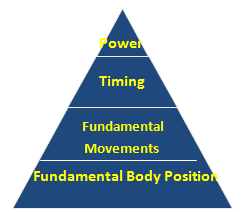 To aid instructors and certification candidates in this type of Movement Analysis, the PSIA-RM Cross Country education staff have developed a new series of certification workbooks that move candidates through the MA process in a step by step manner. Candidates begin by viewing a student skiing video, located at http://www.psia-rm.org/education/cross-country/cross-country-movement-analysis-videos under Cross Country Movement Analysis videos.  A certification candidate (or really anyone who is curious!), can view these video clips numerous times, pausing whenever they wish.  To finish the movement analysis, the candidate then completes a MA rubric worksheet. The complexity of the rubric increases with the level of certification. The full cert/trainer rubric is shown below.
Movement Analysis Worksheet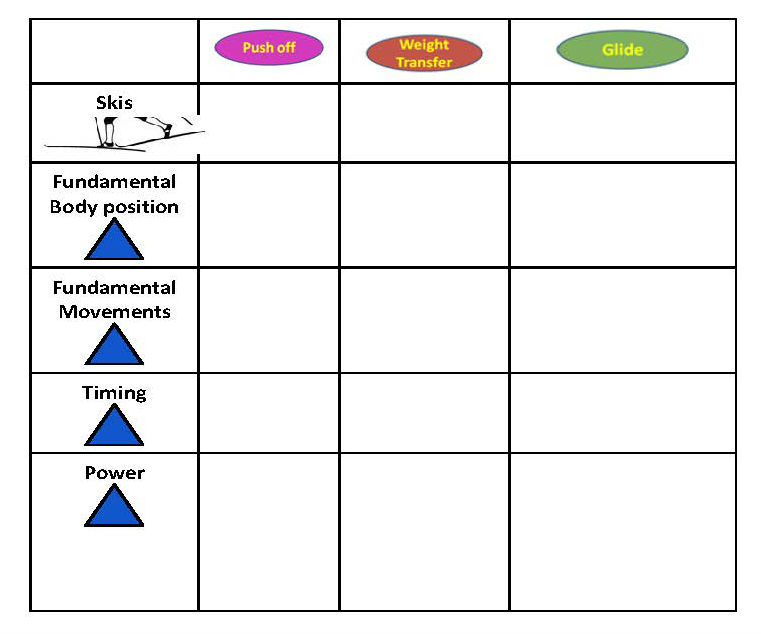 With the information from the MA worksheet, exercises in the workbooks will guide the candidate through the teaching model to create a lesson for the student seen on the video clip.
Admittedly this process is a bit formulaic. However, I can testify that the discipline of taking the time to really try to accurately describe movement within this framework has helped me to sharpen my observations of all cross country skiers from beginners to racers, and including myself!
We invite instructors from all disciplines to view the videos and the workbooks to see what we are up to. We believe that this coupling of videos to online written materials moves our cross country education program forward into the 21st century. In the future we plan to improve the quality and variety of the videos clips. If you are preparing for a certification event please view your level specific videos and complete the workbooks before coming to the event.  This will facilitate discussions and deepen understanding during the event.
Finally, we welcome your feedback. Your feedback will help us continue to improve our educational materials and our understanding of our sport. After all, as cross country skiers we all want to keep moving forward continuously down the track!