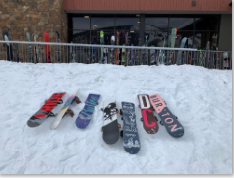 Almost, Not Yet  — Dana Forbes, CEO
"In the long run, we shape our lives, and we shape ourselves. The process never ends until we die. And the choices we make are ultimately our own responsibility." – Eleanor Roosevelt
Truth is, as I type these words, I have no idea if I will pass my Level 1 Snowboard. Fact is, I don't care. I realized a few weeks ago when talking in front of a large group of Level 2 candidates, that success is not defined by which box is checked on the assessment form, rather in the experiences and knowledge gained preparing for the process, and what you will do with it  after the assessment.
I am guessing most of you reading this have been through one of our assessments and some of you have not been successful in passing. I too, have had the opportunity to receive a "not yet" only to get to do a "redo" at my Alpine Level 2 and Level 3 as well as when I became a kids examiner…yep, I apparently like redo's!  In every case, I knew based on the performances of my peers that I was not there yet, so my results came as no surprise. What did come as a surprise was how I was even more excited and driven and committed to seeing the process through. I often tell members that whatever their feedback is, it's an opportunity to go out and continue to work on the thing we love to do most – ski, ride and teach.
So why, after 31 years of teaching skiing, decide to take my Snowboard Level 1?  As your CEO, I am, and always have been, committed to every discipline and specialty we offer. However, being committed and being able to relate, are two very different things. If you read my article last year called "Feels Like The First Time," you would know that snowboarding is something I had planned to commit to and recommitted to over the years, but I never really did until last year. I was spending the day "auditing" the Snowboard Level 1 (a fancy word for what I do to check on the quality of our service and to hang out with our members). Every time we stopped, I clicked off a ski and took a knee, I wore a Burton hoodie, and when I led the group I never took cat tracks, all things intended to make me "relate" to our snowboard members. However, at the end of the few days, I felt like a fake. The reality is, clothing and a smidgen of terrain awareness does not make you relate.
I decided the only way I will be able to ride at the level necessary to roll with our members, was to have a goal, so the Level 1 became just that. I then told people, so I was held accountable. I spent the rest of last season grabbing time here and there on my snowboard and attending a Snowboard Level 1 prep. It was at that event I realized what I was doing was not enough. So, from November 20th-December 20th of this year, I went ALL IN. I was not allowed to ski, only snowboard. In fact, for the months following that full immersion, what little spare time I had when I was not teaching skiing or skiing with groups from Rocky Mountain or running the business, I was on a snowboard. I'll admit, many times I begrudgingly went out because I felt obligated. I HAD to go practice, but then one day I was at an event and unexpectedly, I GOT to go ride with one of our snowboard ed staff. Up until that day I had some okay and some really bad days when I would fall a lot. However, this was the day I fell in love with snowboarding. I learned how to carve, I learned how to flex and extend, and I rode powder in the trees. From that point on, when I went riding, I GOT to go. Unfortunately, on several of those days I fell hard and often, but I always got back up because my level one was approaching!
With all of that you would think come game day I would have been killing it but I was far from it.
I had signed up for a Level 1 in Ski Cooper, but it was cancelled due to low attendance (yep I don't even have those powers). So, I was re-routed to a traveling exam in Steamboat where I live and work. I'll admit I was a little disappointed because I really wanted the full experience with strangers at a resort I did not know. Instead, my Level 1 group consisted of all certified level 3 skiers (all of whom, I sort of knew) and one new snowboard instructor. While we had some last-minute training the week prior, without a doubt every single one of us was borderline going into assessment day.
Camaraderie cannot be forced; it must happen organically. I think we all immediately bonded because while we had almost 80 years of ski teaching experience between us, we were all terrified from time to time during the three-day assessment. The group dynamic was comical. We consisted of a joker, a dungeons and dragons self-defined geek, a medic, an FNG (fun new girl), a perpetual flower girl, and me, the CEO of the organization holding the course. While at times you could cut the stress with a snowboard, we encouraged and supported one another on every teach, and demo we did. We laughed, panicked, fooled around, made up songs and literally cried together. I often tout that our education staff is here to 100% support and do everything they can to get you through your Level 1, but I can now say without a doubt they do. To "Team Timmo," thank you for a life changing three days!
"If you never did you should, these things are fun and fun is good" ~Dr. Seuss
Not only are they fun, but cross discipline certification/experience is critical to the success of any manager, industry leader or full-time pro. If it's been a while since you were a beginner, it will undoubtedly make you a better pro. If you manage both alpiners and snowboarders, this is the key to relating to ALL of your staff. If you are making decisions about the resort you work at, it is imperative that you understand the needs of all disciplines sliding on your mountain.
Earlier this year, I went to Tele Education Staff Training and they asked me to tele (another discipline I am not very good at). They insisted that I slide with them, not next to them. While it was a close call and I almost got a redo at my Snowboard Level 1, the true success for me is now I get to slide with all my members, not just next to them. I'll see you on the slopes!